In Child Protective Services (CPS) cases, a judge appoints a trained CASA Volunteer Advocate to make independent and informed recommendations for the child's physical and emotional well-being. We often refer to this as what is in the "child's best interest." CASA Volunteer Advocates are carefully screened (including interviews, references, CPS, sex offender registry and criminal background checks), participate in a 42-hour training process and are supervised by a professional on the CASA of the South Plains staff.
What is a CASA?
CASA Volunteer Advocates are community members working collaboratively to support children and families involved in the foster care system. CASA Volunteer Advocates provide valuable information to the judge and others involved in the case to help ensure a child's best interest is being met.
What are the roles of CASA, CPS, Saint Francis and Attorneys ad Litem on a child's case?
CASA Volunteer Advocate/Guardian ad Litem:
CASA Volunteer Advocates (and occasionally staff) serve in the court-appointed role of Guardian ad Litem, advocating for a child's best interest to ensure the child welfare system is responsive to the child's individual needs. CASA Volunteer Advocates get to know the child, parents and their family. CASA Volunteer Advocates are typically only assigned to one child or one sibling group. They thoroughly examine a child's case, communicate with parents, relatives, placements, teachers, doctors, therapists and make informed recommendations to the court.
CPS Caseworker:
CPS investigates reports of abuse and neglect of children and will seek custody of children when necessary for their safety.
St. Francis/Permanency Specialists:
Permanency Specialists lead the case and remains primary until permanency is achieved. They coordinate all services to support the children and families. Completing court reports, child/worker visits, parent/worker visits, and resource referrals help the children/families progress to permanency.
Attorney ad Litem:
The Attorney ad Litem represents the wants or wishes and the legal interests of the child, advises the child on legal matters (if the child is old enough) and files legal documents relevant to the child's case.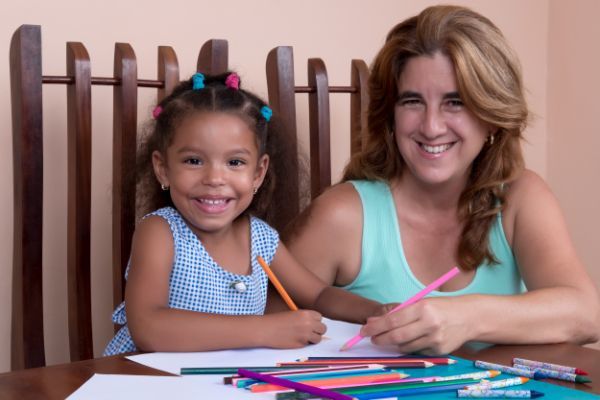 What CASA Does:
Help ensure a child's voice is heard
Identify and address risk to the child's safety and well-being
Identify supportive people in the child's life
Verify education assessments are completed and education supports are in place
Ensure appropriate physical and mental health assessments are completed
Ensure the child's needs are understood by the family and everyone involved in the case through a trauma-informed approach
Provide information through court reports and testimony and make recommendations in the child's best interest to the judge to help them make informed decisions
Time to serve as a Volunteer Advocate
As a Court-Appointed Guardian ad Litem, the CASA volunteer or employee WILL:
Understand the needs and situation of the child by reviewing documents and records and talking with the child, parents, relatives, caregivers, social workers, teachers, and others
Maintain confidentiality of all information and records of the case
Visit the child in person at least once per month, or more if possible. If the child is placed outside of the region, contact will be made by phone or video conference.
Communicate with the child's caregiver or placement provider on a regular basis
Advocate for the child's best interests in the community through regular contact with CPS/Saint Francis, the Attorney ad Litem, mental health, educational, and other community systems to assure the child's needs are met and seek cooperative solutions by acting as a facilitator among parties
Attend all case related meetings regarding the child
Appear at all court hearings to advocate for the child's best interest and for a permanent home
CASA will report any incident of child abuse or neglect, or any situation in which the CASA volunteer advocate has any reason to believe that a child is in imminent danger to CPS/St. Francis
As a Court-Appointed Guardian ad Litem, the CASA volunteer or employee will NOT:
Introduce or identify the child as a child appointed to CASA or in the care of CPS/St. Francis to anyone not professionally related to the child's case
Involve the child with anyone who is not related to the child's case
Take the child to the CASA volunteer/employee's home or to the home of the volunteer/employee's personal friends or family
Be related to any parties involved in their assigned case
Give money or gifts over $25 in value to the child, child's family or caregiver
Give legal advice, medical advice or consent, or therapeutic counseling
Take a child on an overnight outing, an outing that involves aquatic activities, or sign a waiver of liability for a child while on an outing
Be under the influence of alcohol or drugs while performing CASA duties
Provide alcohol or drugs to a child or anyone involved in the case
Speak to children in a way that is, or could be construed by any observer, as harsh, coercive, threatening, intimidating, shaming, derogatory, demeaning or humiliating
Engage in inappropriate physical interactions with the child
Use physical discipline or abusive verbal communication with the child
Engage in inappropriate conversations with the child
Initiate contact with the child after the case has closed. Contact after case closure should be limited and infrequent, and only if initiated by the child or parent/guardian, and if approved by the parent/guardian.
Any CASA staff or volunteer who is alleged to have engaged in any form of child abuse will be reported to the Texas Department of Family and Protective Services and immediately placed on administrative leave for the duration of the investigation.
CASA of the South Plains Zero Tolerance Policy:
CASA of the South Plains has zero tolerance for abuse of any type against children within the community and those supported by our organization. It is our duty as a CASA program to promote the safety and well-being of all children, not just those we directly serve.
CASA Cultural Diversity Statement:
CASA of the South Plains (CASA) commits to creating a culture that embraces diversity, stands on equity, and promotes inclusion. CASA is dedicated to understanding and honoring the diversity of the children we serve and their families. We work to ensure all people are valued, heard, seen, and respected – regardless of their race, color, religion, sex, sexual orientation, gender identity or expression, age, education, disability, marital status, citizenship, or national origin. 
We are committed to incorporating practices that enhance diversity, equity, and inclusion in all areas of the organization, including its governing body, staff, volunteers, advocacy practices, and policies. CASA will create and maintain an environment that empowers all people to perform to their potential and have a positive impact on our community. We will continuously evaluate our efforts related to diversity, equity, and inclusion so that it is woven into the heart of our organization.
We intend not merely to state this commitment in writing, but to make it readily apparent in each person's everyday actions out of respect for the individual experiences of children in foster care and their families. 
What to do if you have a concern about CASA:
In the course of our work as court-appointed Guardians ad Litem advocating for the best interests of children, we recognize that we will have disagreements with others involved in those cases and that we will not always satisfy the priorities of other parties. Many of these disagreements are attributable to the nature of our court-based work, wherein different parties take different positions on what is the best outcome of a case. 
When, however, there are concerns about the quality of CASA's work on a case, our professionalism, or whether we are fulfilling our statutory role, as opposed to dissatisfaction that our stated position is not what another party wishes it were, we take those concerns very seriously and wish to address them.
In most cases, these concerns can be satisfactorily addressed informally, through conversation with the CASA staff, starting with the Advocacy Coordinator assigned to the case, continuing if necessary, to that person's Team Leader or Director of Advocacy and potentially culminating with CASA's Chief Program Officer.
We welcome and encourage these conversations.
In the event that conversation does not resolve a party's concern, a party may choose to make a formal written grievance via email at grievance@casaofthesouthplains.org. This email box is monitored only by the Director of Advocacy and Chief Program Officer.