Every year, hundreds of children in our community enter into the foster care system and face a whirlwind of chaos and uncertainty. For over 30 years, CASA of the South Plains has inspired, educated, and empowered solution-minded community members who are committed to supporting the best interest of children in the foster care system.
On average, it costs CASA approximately $2,000 to recruit, train, and support each new CASA Volunteer.
As a Corporate Partner, you can help make sure more children in foster care receive a CASA Volunteer who is a powerful voice in court, at school, and everywhere a reliable adult is needed.
What do your Partnership dollars mean for CASA and the children in foster care in your community? (*CASA 2022 Calendar Year Statistics)
A CASA Volunteer is appointed to one child or set of siblings.
255 CASA Volunteers advocated for 415 children in local foster care in 2022*.
122 youth in foster care found permanency with the help of their CASA Volunteer in 2022.
CASA can aid in promoting your business to the community through numerous awareness and fundraising events throughout the year. This includes an extensive in-person, virtual, and online communication network:
CASA email and direct mailing campaigns are sent to over 5,000 recipients regularly throughout the year.
CASA social media marketing campaigns reach a range of 20,000 - 72,000 unique users each month (includes Facebook, Twitter, and Instagram).
More than 14,000 unique users visit the CASA website annually.
CASA person-to-person events provide a significant new audience to present your organization to on a regular basis.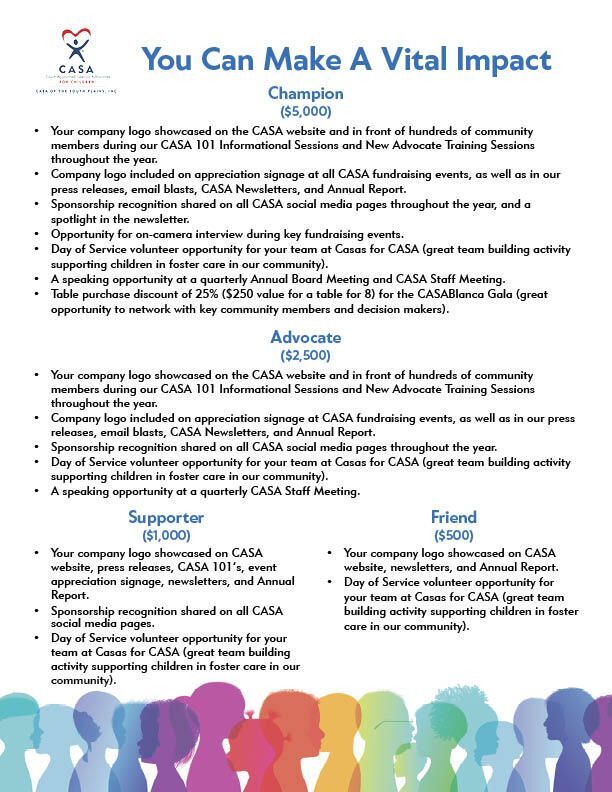 To pay by check or to be invoiced please download, fill out, and return the registration form.

To register online, please select your Partnership Level and complete the fields below.